Fifty to Infinity
Customize your Fifty to Infinity pricing, and add your own prices and print.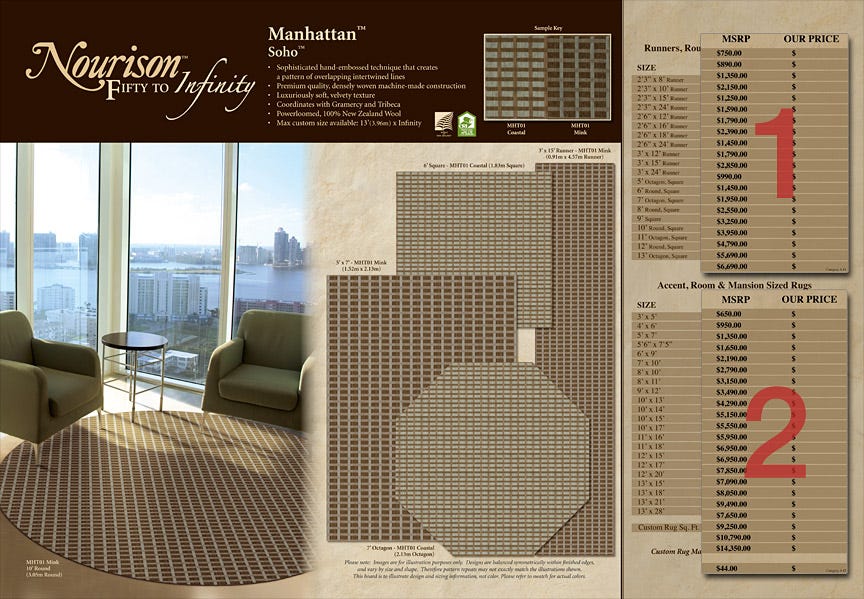 Download Set-up Diagram for your fixture
Please note: There are 2 different sets of price tags for each Category.
TOP PRICE TAG (1)
Shape rugs section of the POP board.
BOTTOM PRICE TAG (2)
Rectangle rugs section of the POP board.
1. Select a Category below to print the pricing tags–
Category A - Ashton House, Beverly Hills, Grosse Pointe, Illuminations, Lusterweave, Luxe Pointe, Miami, Mediterranean, Royal Jacquard, Stardust, Wildlife
Category B - Cosmopolitan, Grand Parterre, Grand Tartan, Grand Textures, Grand Velvet
Category C - Ashton 92, Manhattan, Matrix, Nepal, Silk Garden, Starlight, Twilight
2. The following are features that can be utilized with both sections to customize the pricing listed –
• Customize the column headings You can replace "MSRP" (limited to 7 characters) and "Our Price" (limited to 10 characters) with your own headings, delete them, or leave them the same.
• MSRP We have listed our suggested MSRP for each size. You can replace the $ amounts listed with your own, delete them, or leave them the same.
• Our Price This has been left blank for you to enter the price you would like to sell the product for.
3. Print your document (in "Print Sizing & Handling," Make sure to set to "Actual Size").
4. Cut the forms on the cropmarks.