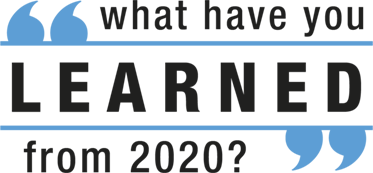 2020 brought unexpected challenges that affected our lives. Many of these challenges encouraged us to view things differently and reassess our priorities. Some of us learned new lessons and some just remembered things we already knew.
At the end of the year, we asked Nourison employees to share "What have you learned from 2020?" Here are their responses.
I learned that we are truly all connected in this world. 2020 showed us that a sickness half a world away can affect you and that our neighbor's well-being is all of our concern. By taking care of each other, we are also taking care of ourselves.
I had learned that staying positive and supportive to fellow employees and customers become contagious.
I've learned that I am grateful to work for a company that always has employees best interest in mind.
I have learned that we are all a team at Nourison and if you work together you can achieve your goals.
I learned the importance of "true empathy" as so many people have dealt with tremendous loss and hardship. It's my goal to try to continue connecting with as many people that I can (both in business and personally) to check-in and to just talk.
I truly learned the passion, love that the Nourison team had to take care of each other, personally and professionally. I personally learned to rebalance my life and to take care of my physical and mental health.
We are resourceful.Our teams do what it takes to get the job done even if our work conditions change.
Nourison as a company is strong, compassionate and a force to be reckoned with for our competition.
I've learned that when one door closes another door opens. Always look for the positive in any situation. The pandemic has really put into perspective how important our health is, and of those around us. I'm grateful that family, and my work colleagues have all stayed healthy.
Rest and Self-Care are Essential. The health and happiness of yourself and your loved ones are the most important priorities, above all else.
That self care is vital and energizing. Quarantine allowed me to do more chores at lunchtime freeing up my weekends.
Self care is so important.
2020 allowed me to practice what I preach. Resilience, patience , gratitude and last but not least... flexibility. You see, I'm a hugger. 2020 has rendered us a "hug less" nation, I can't wait to hug perfect strangers and Capricorns again :)!
Be kind and understanding - stand back and listen - help wherever you can.
Love from my dog is unconditional. Good days bad days they are always there to give you love.
We are as adaptable as we choose to be.
2020 started off an uncertain year, but I am grateful that our company continued to do well. Very thankful for the opportunity for remote work and how excellent communication has remained during these times.
During 2020 we were all reminded once again what a terrific and caring employer I have.
Good company to work for with good people. Manager's and supervisors are good people that care about their employees.
That small businesses are your friends and neighbors. Shop local!
I learned in 2020 that nothing in life or anyone should be taken for granted. All is here today but it doesn't have to be tomorrow.
In 2020 I have learned to be more thankful, hard working, and positive.
In 2020, I have learned to appreciate each day as well as to take the time to slow down and to not stress the little things.
2020 was a logic-defying realm.
I have been reaffirmed that adversity does not build character but that it reveals character. I have seen our Nourison team reveal strong character during unprecedented times!
That we are resilient and can be just as successful working from home as in the office.
Even with set backs, life will go on. I can adapt to change so much better than I ever thought I could!
Most office tasks can be completed at home.
I learned to appreciate what really matters in life and be grateful for what I do have. There is always a way to turn a negative into a positive, you just have to dig deep :). Do not sweat the small stuff, enjoy your life. I learned to really take care of myself mentally and physically.
We take Normalcy for granted.
Nothing is permanent and nobody is invincible.
Always expect the unexpected.
I learned that even though this year was a crazy, wild ride that I am blessed that everyone I know stayed well and made it through this pandemic unharmed. And that I am blessed to work for a company that means what they say that we are all family as they did what they needed to keep us all working and paid. We all did what we could to keep the business moving and growing. It was a challenging year mentally but its heartwarming to know you are surrounded by people who really do care.
Learned how to communicate remotely. Learned how to work "lean".
To be flexible and ready for change.
Work from home effectively.
Reach out! Communication is so important when people are feeling somewhat isolated. Whether customers or family or friends, just a quick touch base can mean a lot to helping someone cope and building a stronger relationship.
There is something positive in everything. While COVID has disrupted 'normal', it feels as though it has put great emphasis on what truly matters.
To appreciate everything I have and love up more on my family.
Life is hard but family is everything.
I have learned to control the way you react to a situation and turn a negative into a positive. I was able to take the extra time I had during quarantine to focus on my health and personal goals-which has allowed me to grow so much this past year.
We need to take care of ourselves as well as each other to help us grow into better humans! Happy Holidays!
LIFE is precious it is truly a gift. Make the most of everday.
To appreciate what I have.
Some things are out of our control. We need to pay attention to our decisions as they may affect many people.
To face and adopt to new challenges and norms.
I have learned that things just don't happen to you but other people also. Don't judge.
I learned that despite the distance you can appreciate the value of people.
To make my family and loved one my main priority and never leave "I Love you" left unsaid.
God is still in control. Family and friends are essential to life. Hugs can heal a multitude of hurts.
The Importance of prayer.
Family is very important.
To be appreciative, grateful, understanding, positive & happy.
I've learned how efficient it can be to work from home.
Team work makes the dream work!
To be more appreciative and also to adapt better.
Things can always be worse so be grateful for your blessings
The difference between "Essential" Workers and "Non-Essential"
To always try to be as safe as you can be.
Humans are not as powerful as we think we are.
I have learned to not sweat the small stuff and to always rise above. To always remember FAMILY OVER EVERYTHING. We must always remember to put yourself and family first before anything else because at the end of the day, it is family that will see you through.
To appreciate the simple things in life.
Your family is the best team you will ever have.
I learned to work on my inner happiness.
I've learn that stressful situations can bring out the best and the worst in people! But I have also learned to appreciate those around you because they may not be here tomorrow.
I learned to work on my inner happiness.