---
KEEP YOUR NOURISON RUG LOOKING ITS BEST!
Nourison's exclusive Nouri-Guard™ technology protects and preserves your rug and maintains its original look, color, and texture. This unique fiber protectant treatment forms a protective barrier on your rug's fibers to block stains and maintain its original appearance longer. As an added layer of protection, it also makes cleaning up your rug easier than ever when spills happen.
Rigorously tested to assure exceptional quality and stain-blocking ability, Nouri-Guard™ rug protectant guards your beautiful Nourison rug against common household spills like:
COFFEE
CHERRY KOOL-AID
COLA
TEA
RED WINE
FRUIT JUICE
GRAPE JAM
PET URINE
MUSTARD
KETCHUP
LIQUID PAPER
BETADINE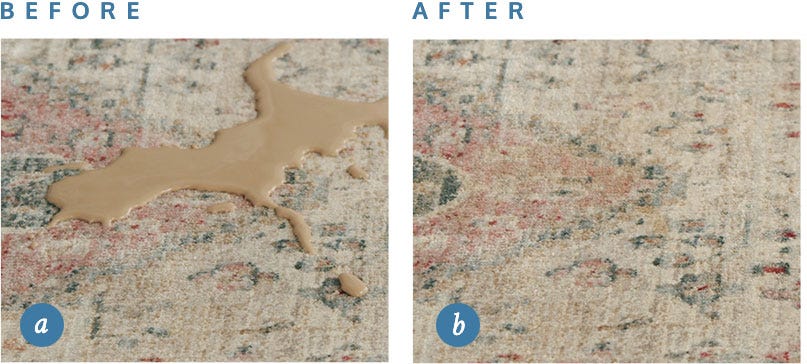 Figure A shows what carpet looks like immediately following a spill. Figure B shows the same area immediately after the spill has been gently blotted with a clean cloth.
CLEANING SPILLS WITH NOURI-GUARD™ FIBER PROTECTANT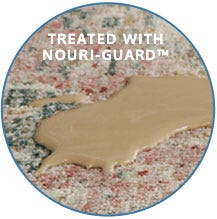 Spills should be attended to immediately. Fold several paper towels and place them over the spill.
Allow the paper towels to absorb the liquid. Do not rub the spill site.
Continue this process until all of the liquid has been absorbed. Once absorbed, gently blot the area with a clean, white cloth. Do not aggressively rub the area or you may damage the fibers.